Labels have 3 basic elements: Facestock, adhesive and liner
Figuring out the right structure of labels you need can be a little confusing. There are many types of applications and configurations. Buying requires knowledge of the terms and configurations available to you. If you take a few minutes to review the following, we hope you will have a clearer understanding of the elements involved in making decisions about your label requirements.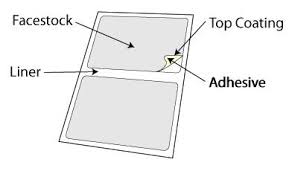 Parts of a Label:
Face Stock 
Adhesive 
Liner 
For rolls: 
Copy Position 
Cutting and Layout Options 
Layout Options 
Core Sizes 
For sheets: 
Types of Sheets 
Types of Cuts 
Face Stock 
Before Choosing a Label, Ask Yourself:
Are you printing on labels using a wide variety of pressure sensitive materials? Pressure sensitive materials include paper, fluorescent, vinyl, aluminum, polyesters, clear acetate, latex, and computer imprintable materials. Stocks can be converted in piggyback constructions, continuous pinfeeds, fanfold construction, and individual sheets.
What kind of face stock is best for your application?
Will the label have to be typed or written on?
Will the material be going through a label imprinter- and if so, what type of imprinter machine? Also, will the label be subject to abrasion, cleaning solvents, etc.? Does the face stock need a varnish or clear lamination?
Tell us what the label is being applied to. Is it wood, corrugated boxes, plastic bags, flat plastic surface, plastic jars and jugs, glass jars, metal surface, irregular surface, paper products, car bumpers, small diameter products, clothing, inside window, direct food product, automobile tires, not known, outside drums, or other? Will it require high temperature applications? We will help you locate the right label for the job! 
Using the Right Adhesive
The adhesives used with labels are also very extensive and include: Permanent Adhesive, Removable adhesive, Freezer adhesive, Tire adhesive for difficult to adhere surfaces....as well as Tamperproof adhesives (which leave a void image if tried to removed), 3M post-it adhesive and Pharmaceutical, to name a few of the different types. Direct labeling on food requires special FDA approved adhesives.
What kind of adhesive is best for your application? Answer the following questions to help us determine your needs.
1) How long will the label need to be on the item? (1 year, 5 years, more?) 
2) What temperature will the labels be applied at? (Normal room temperature?) 
3) What will the storage temperature of the applied labels be?(Normal room temperature, below freezing?) 
Liners
Liners are a silicon coated and are available in different weights. They are usually Kraft calendered paper but some film liners to exist.
About A Top Coating on the Facestock.
A topcoating can be required for several reasons. The most common is a specaily coating so the material has waterproof properties.