Xtrack™ RFID Smart Labels from Worldlabel.com Printed or Blank RFID labels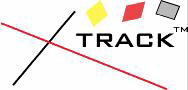 The Infinity RFID tag embedding system
Xtrack™ RFID Smart Labels are manufactured by Innotech Resources PTE LTD in Singapore with advanced converting technology.
We embed radio frequency identification RFID tags (inlays) to RFID self-adhesive paper labels with our PCT patent pending technology which increases the reliability and consistency of the label while reducing costs effectively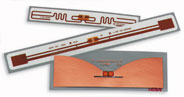 Alien RFID Tags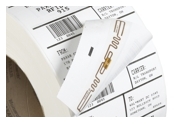 Converted Roll of Printed RFID Labels
Our Xtrack™ RFID Smart Labels printable on thermal printers are embedded with the following tags and will be a stock Item. Thermal Transfer Face-Stock with a permanent acrylic adhesive, 500 labels per roll:
Xtrack™ UHF EPC class 1 Size: 4" x 6" Model# Xtrack™ 4x600TT
Xtrack™ UHF EPC class0+ Size: 4" x 6" Model# Xtrack™ 4x611TT
Xtrack™ UHF EPC class1.19 ucode Size: 4" x 6" Model# Xtrack™ 4x622TT
We can ship small quantities for pilot tests or larger runs. We can supply Xtrack™ RFID Smart Labels with information encoded and printed onto the labels. Xtrack™ RFID Smart Labels meet Wal-mart and the U.S. Department of Defence requirements,.
We offer custom size manufacturing of the Xtrack™ RFID Smart Labels with a variety of face-stocks and adhesives including Thermal Direct pressure sensitive paper, embed any type of inlay you might require, and accurately embed the inlay anywhere in the label consistently.
Applications:
Supply Chain Management
Asset Management
Container Identification
Pallet Tracking
And More....
Frequencies:
13.56 MHz - ISO 14443
13.56 MHz - ISO 15693
869-915 MHZ - UHF
Customer benefits
New and most innovative UHF / GHz technology
Use readers from multiple suppliers
Print Barcodes on most popular thermal printers
Highly advanced anti-collision and highest speed
Open product platform targeted to be compliant with ISO 18000-4 and ISO 18000-6
Reader portfolio covers all regional demands
Complete chip and tag product roadmap including OTP memory (single write and license plates) and EEPROM read/write memory (security and sensors)
100% accuracy
Certificate of inspection
Our system and methods of manufacturing increases the reliability and consistency of RFID labels to 100% accuracy for our Xtrack™ RFID Smart Labels. This is important to the end users and manufacturers because it increases their throughput, it decreases the operational time that they need to print those labels, and the reliability of the label helps them integrate other high-speed applications.
We are producing a high quality RFID labels with excellent accuracy and at lower cost levels. We are at the forefront of converting RFID Labels. We have increased the functionality of labels and started a revolution. We are working on expanding our RFID capacity for the billions and billions of Xtrack™ RFID Smart Labels the market will soon require. Worldlabel.com is working to meet the challenges that lie ahead.

Alien Technology Inc. Approved Convertor Partner
For more information, Pricing and data on our Xtrack™ RFID Smart Labels, please contact us at contact@worldlabel.com