---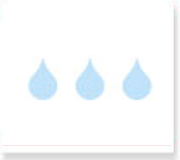 Our White Weatherproof / Waterproof Inkjet Label Sheets (WJ) are made with a bright vinyl material. They are ideal for any labeling uses that may come into contact with moisture. You'll find these labels to be durable, especially as they have a strong and permanent adhesive.
To prevent ink from scratching off in high-contact applications, an additional topcoat spray may be necessary. *Adjusting printer settings may be needed.* Inkjet only
Need a super durable label to withstand the elements?
Can withstand harsh environments and outdoor applications, including water and moisture.

The bright white vinyl material is only printable with inkjet printers.

Adjustments to the printer settings may apply. When adjusting, reduce resolution.

A tough material that's hard to scratch, complete with a super strong permanent adhesive.

Excellent for use with your soap, bath and body products as well as for your Chemical Drum Labeling.

Can also be used for labeling water bottles, bumper stickers and outdoor signage.

Note: Testing samples is recommended before buying---especially if you plan on printing more than 100 sheets! Want to know for sure you're getting the right labels for your project before you buy? Remember, when you come to Worldlabel.com, all of our samples are free! For more info, please visit our sample request page.
Download Technical Data Sheet (PDF)
Labels by Shape
---