Worldlabel is a Label manufacturer of Blank Labels in many different colors and sizes. Our blank labels are perfect for your multifunctional labeling applications, including your Addresses, Mailing, Shipping, CD and Media Labeling needs. Our labels are on 8.5 x 11" sheets will suite your general business offices and manufacturing labeling requirements, as well as for use in product packaging and labels for marketing. Our labels are ready for use with your laser or inkjet printers and copiers- whether they be at your businesses or at home. Since 1998, our focus has been on making sure we have plenty of stock available so that we can ship out your labels the same day that we receive your order. We succeed more than 95% of the time.
Blank labels for printing come on sheets ready to be printed on using laser printers with toner or with ink cartridges using an inkjet printer. The label sizes are die cut into the sheet. A corresponding blank label template helps you format the design and print in alignment. Blank sheet labels are available in different adhesives and materials for all kind of labeling applications. These uses can include basic mailing and shipping labels to product labels, GHS chemical drum labeling applications and more.
Our labels are manufactured as designed to format with the same label templates you are currently using (i.e. your popular label software and templates sizes) such as Windows®, Mac® and Linux label software programs. We also offer Free Label Templates here at Worldlabel.com that you can print out at your own convenience. 


The blank PrintPeelApply brand Non-curl jam-free 8.5" x 11" laser and inkjet label sheets Worldlabel manufacturers comes with an emulsion acrylic non-ooze permanent adhesive (unless stated as removable). They are suitable for all types of Laser printers (including high speed), Inkjet printers, and copiers of all sizes and types.
We are both a long run and short run label manufacture in over 120 sizes for you to choose from! All are made on US letter size sheets. Each blank label size is available to you in White Matte, Glossy, Fluorescent colors, Pastel colors, Clear and Weatherproof / Waterproof adhesive label materials (and lots more!), all with permanent adhesive (unless specified as removable).

With Worldlabel, an affordable shopping experience is conveniently at your fingertips! Easily browse the large variety of labels we manufacture for printing at either home or the office:
By Avery® Labels Sizes | By Shape | By Use | By Material and By Label Size
LABELS BY SHAPE

LABELS BY USE

OUR KNOWLEDGE BASE
If you need help on how to print labels or general information on Using Labels for Printing, or Microsoft Word label templates and Mail Merge, visit Our Knowledge Base for lots of How-tos and Tutorials.
A LITTLE HISTORY

Our first website Logo 1998
It was not an idea, it just happened. We manufactured blank labels so it made sense for Wordlabel to launch a simple single page website in 1997 for advertising our adhesive labels. Inquiries came in for generic labels in the same sizes as Avery® 5160, 5163, and 5167, as well as requests for other common sized labels, which are made ready for printing on sheets for laser or inkjet printers. By 1998 Worldlabel was an E-Commerce pioneer, selling blank labels online direct from the manufacturer to the end user.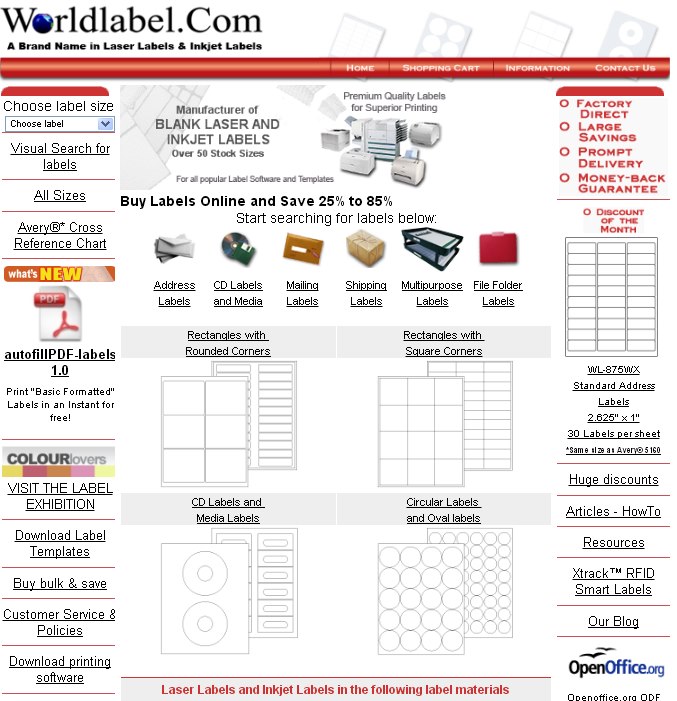 Then along came a rebranding initiative in 2010: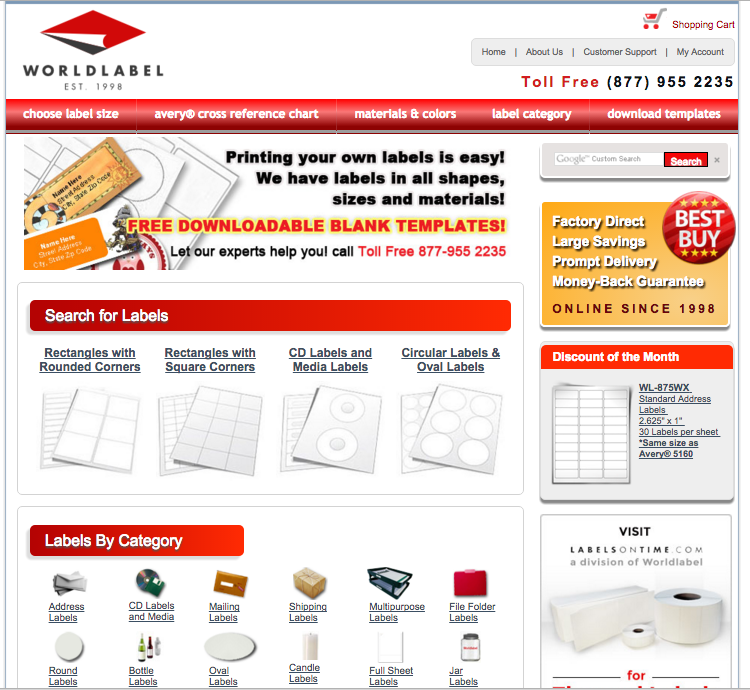 BUILDING RELATIONSHIPS
Today at Worldlabel we have all kinds of clients buying our blank laser and inkjet printer labels on sheets: from families doing their Christmas mailings....to small soap and candle makers....and for folks who sell at farmers' markets! We also provide to all kinds of large companies (including Fortune 500 global corporations, aerospace, chemicals, distribution and logistics, food manufacturing)....and on and on.
If you are interested in testing our laser or inkjet sheet labels, please visit our Sample Request Page!!! If you order labels multiple times a year, we will work closely with your business, nonprofit or institution and give you maximum value.  We can create instock ontime delivery programs from any one of our 5 label manufacturing warehouses nationwide.  If you have an interest in a Net 30 account, please visit our Business Accounts page.  If you would like to talk to a representative, please contact us.
OUR FOCUS IS EVERYTHING IN STOCK: and EVERYTHING SHIPS SAME DAY!
Thank you for learning about our company. Please let us know how we can help fulfill your labeling needs. 
Always happy to work with you, 
Team Worldlabel