Mail Merge Options - OS X
Mail Merge is a must when it comes to printing labels. The feature is offered by many office applications. It's an easy process that quickly connects either an address book application or spreadsheet filled with contacts and pulls all of their information into a single label.
There are many applications for the Mac OS X that support Mail Merge, so we've written this article showing some of the best solutions for Mac and how to use them.
Office for Mac (Labels)
Office for Mac has great mail merge support. Using Microsoft Word, you can link an existing Excel document containing contact information to a Word document, allowing you to pull contact data into labels, letters, and envelopes.
To start, launch Microsoft Word on your Mac and click into the Tools menu from the Apple toolbar. Select Mail Merge from the drop down menu and a Mail Merge pop-up menu will appear.
The Mail Merge popup menu has a ton of options that will make for an easy data import from Excel. From this menu, click the Create New button to start a new Mail Merge. You'll be prompted to select a document type: a letter, label, envelope, or catalog. For this tutorial, we'll be using labels.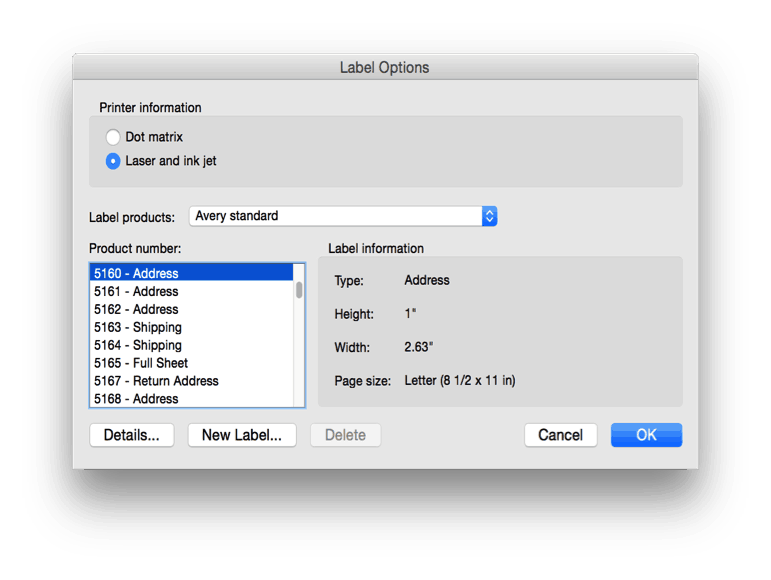 Select the printer you'll be using to print these labels. You can do this by looking under the Printer Information option. You can select the type of paper you'll be using in the Label Products option.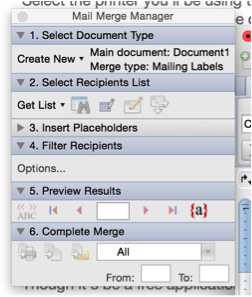 Under the second option, Select Recipients List, click the Get List button and select Open Data Source from the drop-down menu. You'll then be prompted to select your Excel document containing addresses from your Mac's file structure.
You can now customize the rest of the options as necessary: adding placeholders, filters, and customizing other options. Press the Return key on your keyboard to initiate the Mail Merge, and voila! You can view your labels within the document and print by pressing Command + P on your keyboard.
Labels and Addresses (Design)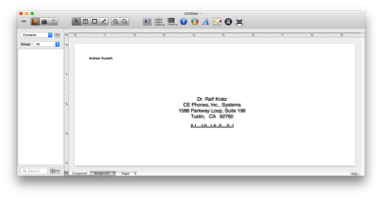 Labels and Addresses is a $30 Mail Merge application for Mac that has built-in design tools. You can use the application to create beautiful label and envelope designs and apply Mail Merge information to them.
After launching the application, you'll be brought directly to the Design tab. From here you can select from a variety of pre-made label, card, and envelope designs. Double click on a design, and it will open a new window: where you can start right away with using Mail Merge.
From the sidebar, you'll see all of your Mac's contacts. Clicking on a contact will automatically bring the person's information into the label queue. You can select multiple contacts by Command-clicking on multiple contacts. When you're ready to print the queued labels, select the Print button from the upper right-hand corner of the window and a print screen will appear.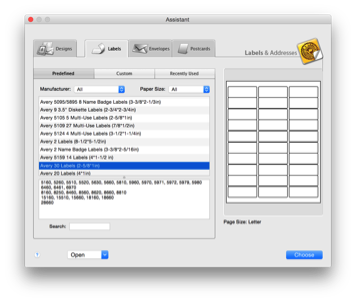 Additionally, you can use one of the application's built-in label templates to create gorgeous label, envelope, and postcard designs from scratch. When at the home-screen, click into the Labels, Envelopes, or Postcards menu — all of these are located to the right of the Design button.
When in these menus, you can select which label template you'd like to use to create your new design. Labels & Addresses has hundreds of templates built-in, including templates for Avery and DYMO labels amongst other brands.
When in these Menus, you can select which label template you'd like to use to create your new design. Labels & Addresses has hundreds of templates built-in.