Worldlabel Pro Wizard Designer Label Software
Our new and improved label wizard Designer Version 6 label software program is free to use for 15 times: Download your free trial now!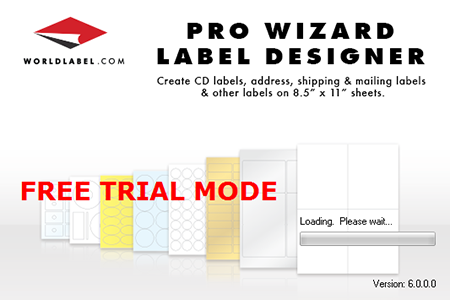 1) Print and design your own CD Labels, Address Labels, Mailing Labels, DVD Labels, Envelope Labels, and more!!
2) A Complete and Powerful Office Solution Software that's perfect for all of your labeling and printing needs.
3) Supports over 100 Standard Size Label formats offered by WORLDLABEL.COM, including common sizes offered by office supply stores.
4) Design and start creating your own Custom Label formats.
5) Contains a Built-in Database to store personal information and/or Address Labeling for mail merge.
6) Includes CLIPART Graphics, Backgrounds and Textures.
7) Link to any TXT or CSV Database and any External Database thru ADO and ODBC.

Pro Wizard Label Designer provides the Tools ready to use for TEXT, Line boxes, Ellipses, Arc text and BAR CODE.
With Pro Wizard, you can vary the colors and styles of your labels....this program provides you with endless creative possibilities!
- Import your own Graphics: Pro Wizard supports popular graphic formats.
- Gradient and Texture Fills: Use a gradient, texture or image to fill text and shape objects to create outstanding label designs.
- Graphic Effects: Crop, mirror, flip, rotate, negative, noise, gamma, and more! The "Pro Wizard" program gives you creative freedom with your labels, including the ability to even give your label graphics a cool transparent background.
- All Common Image Formats Supported: Access to popular image formats GIF, JPG, PNG, TIF, BMP, WMF, TGA and PCX are simple and easy to use with Pro Wizard.
- Use Your Own Clipart, Logos and Photos: We supply you with the graphics, but don't think that's all you can use! With Pro Wizard, you can draw inspiration from your own pictures, logos and clipart to design the perfect labels that are just right for you. You can even scan pictures from a scanner or a digital camera directly into your label. With Worldlabel's Pro Wizard program this process is made simple, fun and easy.
- Media label printing design: Perfect for many different media-related labels such as: CD LABELS, VHS Labels, Cassette Labels, Diskette Labels, Video Spine and Face Labels, Mini CD Labels, Business Card CD Labels, DVD Labels and more!
- Envelopes: Use Pro Wizard for all popular envelope sizes: give your mail a professional look or add your own personal touch!
- Popular sizes including: File Folder Labels and all Labels that match using the handy corresponding Avery® cross reference chart!
Acquire Graphics Quickly and Easily:
from SCANNERS and DIGITAL CAMERAS with TWAIN
The Handy Process of Label Printing Made Easy:
Print your own Professional and Self-Designed labels now!! Quickly browse references for label supplies to match label formats and software. All materials are sent to you factory direct. It's a process made easy when you visit Wordlabel.com, A manufacturer of Brand name Laser and Inkjet Labels.
NEW IN VERSION 6
-Updated layouts

-Save as Graphic option for professional printing

-Improved picture selection screen

-Select from a file or the online gallery Integration with OpenClipart.org

-Enhanced Database Support

-Improved Support for Common Database Formats-so that linking your Mail and Address Labels to a database is even easier

-Designs are now pre-linked to the built-in Names and Addresses Database by default! Creating a label using data from this database is simply a matter of adding the names and addresses before printing. Everything else is then taken care of for you.

-Allows you to display records in the Linked Database, elect view, change and edit records

-Preview individual records in the Design Editor

-Define different Subsets and Filtering/Sorting rules for the Same Database
ALSO, you can now use our:
FAST Printing Option -perfect for use with your Text-only Mail Labels and Address Labels!
-Check this option on the Print Options screen and print out tens of thousands of labels with blazing fast speed.
NOTE: This option bypasses the "double drawing" needed for transparent and rotated images (so as to provide direct drawing of labels directly to the printer driver). If the option is enabled for labels containing certain transparent, blended or rotated images (or text with blended fills), the label may not print correctly.
New Quick Tools Panel:
The Quick Tools Panel provides access to everything you need to design, edit and print labels in one location! Simple button interface is included to add objects, define a background, change layouts and print your label.
QR and PDF417 2-Dimensional Barcode support:
-Add a QR or PDF 417 bar code to your labels (this makes it possible for your information to be scanned instantly using a smartphone).
USPS Intelligent Mail Barcode Support - The IMpb provides piece-level data to enable the Postal Service to increase efficiency, add value to its package product line, and enhance its package tracking capabilities
---
For Windows XP, Vista, 7, 8, 8.1, 10. File size 4MB
Complete online help and more. To send an E-mail: Click Here
CLICK HERE for your Free Download Trial of the World Label Designer version 6.0!
CLICK HERE TO PURCHASE for usd29.95 version 6 now!
-Read below if you have lost your software key or need to re-download Version 5.0 of the World Label Designer software.
-If you previously purchased version 4.0 of World Label Designer Software and your computer has crashed- or if you need to reinstall version 5.0- you can download it by CLICKING HERE.
---
What People Are Saying about Worldlabel.com Label Software: