Free Blank Label Template To Download.  For Any Version Of Microsoft Word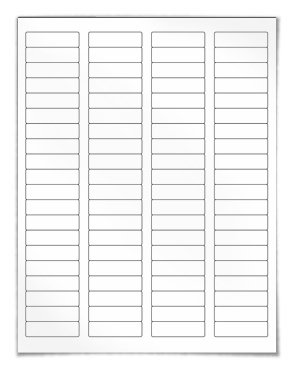 Dimensions & Info
Size: 1.75" x 0.5"
Labels per sheet: 80
Sheet size: 8.5" x 11" US letter size
Same template size as**: Avery 5167, 8167
Intended use: Popular return address label size. General uses. Marking, Deli container labeling, File Folder
Margins: Top 0.5", Bottom 0.5", Left 0.25", Right 0.25"
Compatibility:  Uline S-5957, Staples 18056/SIWO090
Image of Dimesions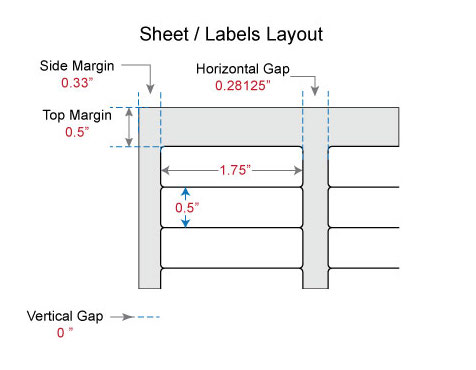 Howtos and Tips:
The WL-25 Word label template is already installed in the label wizard in all versions of Microsoft Word. Open Word > Mailings > Labels > Options > Avery > US Letter size > 5167. Our WL-25 is the exact same size as the Avery 5167, 5267, 5667, 8167, 8667 template with 80 labels per sheet. The label wizard will give you the opportunity to populate the template with the same address, or open the document and fill out the label cells with your information.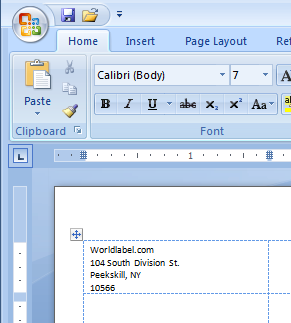 WL-25 Word template with an address inserted
---
1) Read this tutorial if you want to print the same information on all 80 labels on our WL-25 (avery 5167 size)
2) Read lots of tutorials on using blank Word label templates in our Knowledge Base
3) If you interested in the WL-25 (Avery 5167 sized) in another fileformat like PDF, ODF and other, please visit this page.
4) Please read your printer manual and make the correct changes to your printer settings before printing your desired information and desing on 5167 size labels. Please print on a plain paper first and trace over labels to make sure the labels are aligned well. 
 
5) Store all labels flat and away from heat and sunlight!
Click here to view or order this item
---
Buying brand name labels like Avery, Staples or Uline? We ship direct from the factory and will save you tons! Would you like to test our labels first? We would be happy to send you samples to test.
Thank you for visting Worldlabel